KLA CDSEM
We offer refurbished KLA CD-SEM systems and associated spare parts with the largest inventory in the market. This product line is supported from our operations center in Blackwood, NJ USA. This location houses a 2500 SqFt metrology refurbishment lab within 12,000 SqFt facility.

Why GCE ?
Proven solutions for Si, GaAs, SiC, Sapphire, Glass, and other exotic substrates
Wafer Size Options: 3" - 8" (smaller substrates run with carrier wafer)
Run variety of wafer sizes & types on the fly. No hardware changes = zero downtime !
Each CD-SEM configured and optimized for customer's specific application
Performance guaranteed to be in full compliance with original new tool specification
Installation, warranty, training, and after sale support offered worldwide
Comprehensive spare parts program with spare parts available to ship immediately
More than 50 CD-SEMs deployed for fabs in US, Europe, Russia, Taiwan, China, Brazil
High level factory trained senior engineers on staff full time
The largest inventory worldwide of KLA 8xxx CD-SEMs and spare parts for sale

Re-engineered by GCE as the most versatile CD-SEM solution in the market !

Talk to us before selecting CD-SEM platform for your fab.


Featured KLA CDSEM
| | | | |
| --- | --- | --- | --- |
| Image | Model | Description | Qty |
| | 8100 CD-SEM | Res: 4.5nm, Features: 100nm, 3"-8" wafers, Mag: 400kx | 3 |
| | 8100XP CD-SEM | Res: 4nm, Features: 30nm, 3"-8" wafers, Mag: 400kx | 3 |
| | 8100XPR CD-SEM | Res: 4nm, Features: 30nm, 5"-6" reticles, 3"-8" wafers, Mag: 400kx | 2 |
| | 8250 CD-SEM | Res: 4nm, Features: 30nm, 3"-8" wafers, Mag: 400kx | 2 |
KLA CD-SEM
Selection Chart: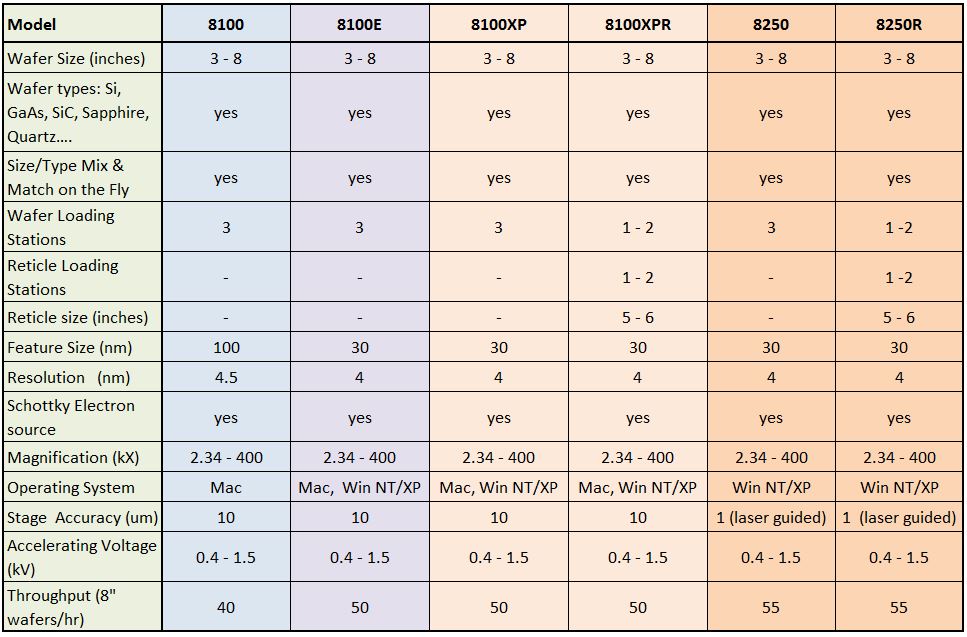 Our Refurbishment Process:
New electron source
All main power modules are refurbished and tuned for optimal performance (Shottkey gun controller, Detector controller, DC power supply, & Wein Filter)
Robot, robot controller, & pre-aligner rebuilt and re-calibrated
Chamber vacuum feed through assemblies replaced with new
Stage motors replaced, X and Y
All consumables replaced (Apertures / scintilator, etc)
End effector inspected and replaced if required
Turbo pump rebuilt
Both scroll pumps fully rebuilt
All mechanical assemblies inspected and repaired/replaced, as required.
All wiring and tubing inspected and repaired/replaced, as required.
Each load port is calibrated to run customer specified wafer size(s). Pipe line cycle tests are run to ensure flawless operation in full automation.